The update we released on the 16th of November 2016 includes the following changes:
Added easy accessible config switch to the menu
It is now possible to simply switch the config file from the main menu page without restarting the cheat.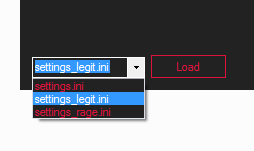 Simply go to the main page of the menu and select another config file from the dropdown menu in the bottom left corner. After selecting the config file simply click the Load button and the other files config contence will be loaded and used by the cheat. This is how easy it is to switch it now.
If you have any suggestions feel free to suggest them down below in the comment section.